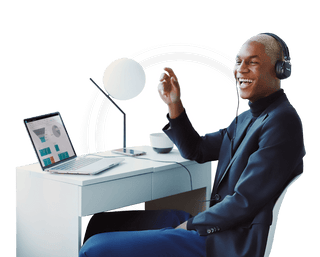 Pricing and packages
Say goodbye to expensive D365 Business Central upfront implementation costs, and hello to an affordable monthly subscription.
Discover our Business Central subscription packages
Choose the package and licences that are right for your business today, from a feature, budget and support perspective.

All our packages have no upfront costs, and are a rolling monthly subscription.
What about licensing?
Every user who wants to write to the system (so anyone who wants to post invoices, journals or any sort of transaction) will need a license. The 'Essentials' license covers everything you need for accessing Business Central and all the functionality included in Launchpad. 
Do you need more features or additional users?
The enterprise package can be configured with a wide range of additional options that are tailored to your exact business needs.
Please contact us and we can build a custom package for you.
What's included in our monthly packages?
Access to accountancy trained consultants

We know you'll have questions, and our experienced consultants are on hand to answer them and help you get the most out of your system.

All the training you need

Take advantage of unlimited access to training materials and guides to help you better understand the possibilities of the system.

Exclusive system optimization

Access to extensions that offer additional reporting and approvals.
"If you don't need every aspect of Business Central, that's fine; they sell it in incremental packages so you can get what you need when you need it. We don't need many of the extra modules and I appreciate that we don't have to pay for them."
Wendy Harris - Harris Renovations
TRY IT NOW
Start your free 30 day trial of Business Central
Get started with a free 30 day trial, and experience the powerful cloud accounting and business management solution that connects sales, service, finance, and operations teams to adapt faster and drive the growth of your business.