Get started with Microsoft Business Central and never change accounting systems again
An accounting system you can grow into, not out of. Start with just the features you need and expand your system as your business grows. Setup, advice and support all now available in one simple monthly subscription.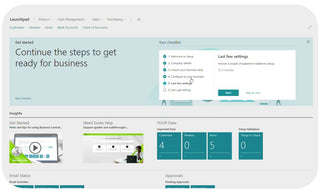 What is Launchpad™?
Launchpad is a unique monthly subscription to Microsoft Dynamics 365 Business Central. With Launchpad, you complete the system setup yourself, following our simple step-by-step guide. No upfront costs or consultant-led setup needed – get started on your own terms and in your own time.

With three affordable monthly subscriptions to choose from, select the right plan for your business and make the most of unlimited access to our extensive knowledge portal and on-demand support from our dedicated Business Central consultants. This is Business Central designed for small businesses.

Business Central. A system that works your way
Fully integrated with the Microsoft Cloud ecosystem, Business Central works with the applications you use every day, including Outlook, Teams and Excel.
Get a complete accounting system live for as little as $299/month
What's the catch? No catch. Our fixed monthly pricing means you know exactly what you are getting (and what you're not) from day one. Fixed pricing also helps support small businesses with budget and cashflow planning – no one-off surprise costs here!
TRY IT NOW
Start with a free 30-day trial of Business Central
Get started with a free 30-day trial and experience Business Central's powerful cloud accounting and business management solutions. Connect sales, service, finance and operations to adapt faster and drive the growth of your business.